Home
/
Media Centre
/
News
/
Legal apprentice takes big step towards becoming a fully qualified solicitor
Legal apprentice takes big step towards becoming a fully qualified solicitor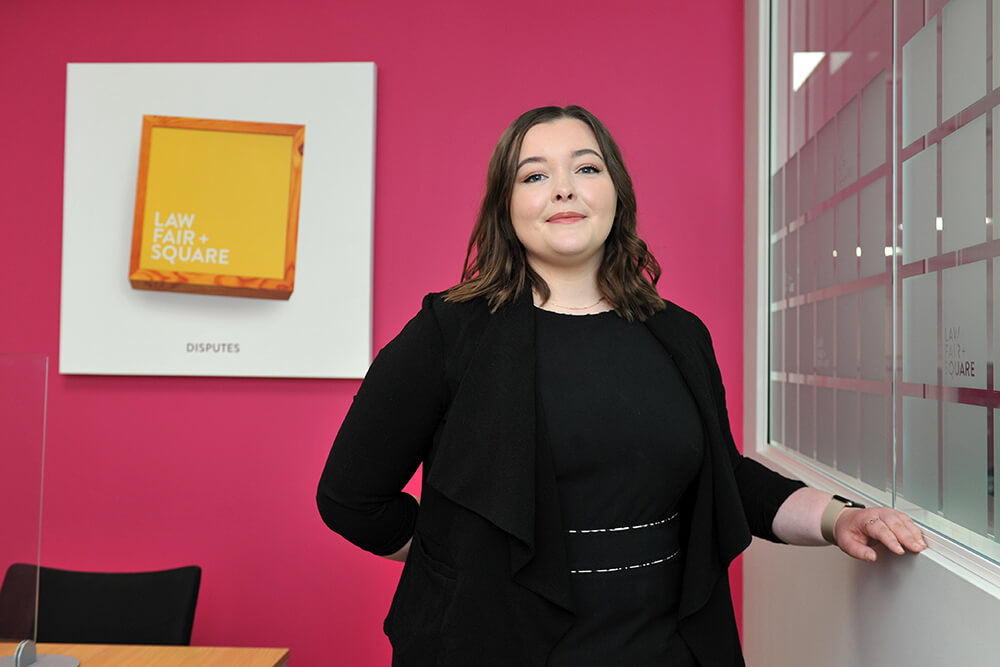 Legal Apprentice, Hannah Lynch-McShane has been promoted to trainee solicitor after completing her latest phase of training and is now preparing to become one of the region's first legal apprentices to become a fully qualified solicitor.
Hannah joined LCF Law as an apprentice in 2015 after completing her A-levels. In 2017 she became one of the first students in the UK to join the University of Law's Solicitors' Apprenticeship course, which offers school leavers the opportunity to work in a law firm and train to become a solicitor, without having to first complete a traditional university degree. She currently spends one day a week studying with the university and four days working at LCF Law.
Hannah is currently working in the firm's commercial disputes resolution team and, from April 2022, will move departments every six months to gain experience in other areas of law such as corporate and personal law.
In January 2023 Hannah will sit the new Solicitors Qualifying Exam, which is the result of pioneering reform in the legal education industry to create a single and accessible route for solicitors to meet the standard of knowledge and skills required to practise.
LCF Law recruited its first apprentice in 2014 and currently has four apprentices at various stages in their training across its four offices in Leeds, Bradford, Harrogate and Ilkley.
Hannah's success coincides with LCF Law sponsoring Bradford Manufacturing Weeks 2021, which is promoting apprenticeships to school leavers, through a programme of events including many led by current apprentices.
Hannah said: "A legal apprenticeship always appealed to me because it offered the opportunity to train for a career as a solicitor without having the expense of a university degree. Working at LCF Law also means I'm learning from an experienced team across a variety of departments and specialisms, which is proving invaluable and giving me a deeper level of understanding of lots of different areas of law. I'm now looking forward to sitting my final exams and would definitely recommend an apprenticeship to anyone who wants to train and earn at the same time."
Managing Partner Simon Stell,  said: "We launched our apprenticeship programme to give school leavers the opportunity to train in-house and receive a nationally recognised legal qualification. We now have a group of aspiring lawyers who all have promising careers ahead of them.
"Hannah has risen to every challenge her apprenticeship has presented and she's a fantastic example of what's possible for young people who want to learn and work hard. We're all delighted to see her heading into the final stage of her training and we're looking forward to continuing to support her ambition of becoming a fully qualified solicitor."
"As a sponsor and key supporter of Bradford Manufacturing Weeks 2021, we have a first-hand understanding of how valuable apprenticeships can be, for both businesses and young people, and would urge employers across all sectors to consider how they could benefit from recruiting apprentices."