Masterclass for family businesses in the art of being decisive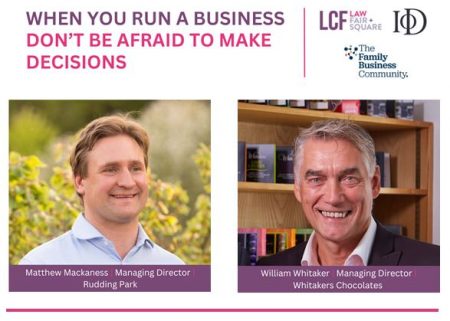 The Institute of Directors (IOD), The Family Business Community and LCF Law will offer expert advice on the vital art of decision making at a special event for family-run businesses being held this week.
Two prominent figures in the Yorkshire family business community, Matthew Mackaness from Rudding Park, and William Whitaker from Whitakers Chocolates, will present to more than 50 attendees on Thursday 16th November at Rudding Park.
Sue Howorth, from The Family Business Community, said: "We are looking forward to hosting an enlightening evening, where established local family businesses will share their stories, highlights and challenges. The theme for the event is 'the art of decision making', which often comes with its own unique challenges in family businesses, and we can't wait to hear from Matthew and William about their experiences and how they have shaped their success."
Chair of the IOD, Caroline Pullich said: "Any family business wanting inspiration and advice on how to grow and manage their business and get first-hand advice and tips from other successful business owners should attend. Rudding Park has been a family run luxury hotel business for just over 50 years and Whitakers Chocolates has been producing chocolate for over 135 years – so between them they clearly know how to make big decisions!"
Managing Partner at LCF Law, Simon Stell, said: "We are looking forward to hearing from Matthew who will give an insight into the significant decisions that have been integral to the growth and ambition of Rudding Park. William will talk through a very bold decision he had to make for Whitakers Chocolates and will play back the scenario to the room to gain attendees' perspectives, before revealing what he decided! It will be a fascinating session and there are just a few tickets left, so we would encourage anyone who is interested to register now."
To register for the event, which takes place at Rudding Park, visit Eventbrite: When You Run a Family Business Don't Be Afraid to Make Decisions.