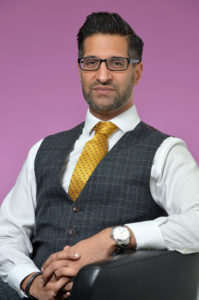 Amjed Zaman
Amjed Zaman is an English qualified Associate Solicitor, based in our Bradford office, and has over 15 years' experience in the legal sector. Having specialised in Wills and Probate for the last seven years.
Amjed has recently been awarded the STEP (Society of Trust and Estate Practitioners) Advanced Certificate Diploma in Cross-Border Estates.
Amjed has acted for clients in many jurisdictions of different religious and ethnic backgrounds, in relation to succession and tax planning for either UK clients who have assets overseas, or overseas clients with assets in the UK.
He can draft UK Wills covering a person's worldwide assets, or where appropriate he can draft foreign Wills, to cover his client's assets overseas – ensuring his clients are aware of how succession and tax rules in multiple jurisdictions interact with each other.
He is also able to provide an analysis of domicile for inheritance tax purposes (which can be used in dealings with HMRC) as well as advising clients about, and preparing powers of attorney including foreign jurisdictions.
In particular, Amjed is also able to provide Sharia compliant advice and Wills.
Amjed is an Affiliate Member of the Society of Trusts and Estates Practitioners (STEP), a Member of the STEP Cross Border Special Interest Group and an Associate Member of the Solicitors for the Elderly (SFE).
Amjed's clients appreciate his skill, care and ease of communications throughout what can be very difficult and challenging times
"Thank you for all your help in obtaining the Grant of probate for my mother-in-law… your efforts on my behalf made the whole process so much less stressful and are very much appreciated" 
"We were highly satisfied with the services of LCF and should like to thank Amjed Zaman for the help and advice given to us at this difficult time."
"Your thoughtful care and empathy was much appreciated. You showed us the way to go on many occasions, made things clear to us – things which were unknown and therefore required explanation.
If ever I am in difficulty in the future I know to whom I can turn."
"We would like to thank Amjed Zaman for his support and compassion through a very difficult time. His service was outstanding."
"From the first meeting to the last email, Amjed and the team of LCF Law have been kind, considerate and understanding. This was my first experience with the company per se and will remain my 'go to' company, when and if required in the future."
View our complete range of Personal Law Services
Call Now : 01274 386 990