Intellectual property
Intellectual Property, the need for specialist advice has never been more important
Businesses who develop innovative products and services, and valuable brands, need to protect their investment in innovation, and the goodwill they have developed in their brands, by the use of Intellectual Property (IP) rights.
Our specialist IP team advises on all aspects of intellectual property law including patents, trade marks and passing off, design rights, copyright, trade secrets, and data protection. We can help you to identify and acquire IP rights, develop strategies to exploit and generate revenue from those rights, and enforce your IP rights.
Our in-depth knowledge and many years of experience in this area of law enables us to quickly identify the relevant commercial and legal issues, and to work with you to achieve your objectives swiftly and cost-effectively.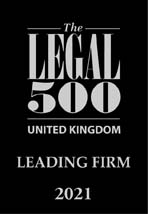 Legal Directory LEGAL 500 (2021 Edition) has this to say about our Intellectual Property Team
James Sarjantson heads up LCF Law's commercial and IP department, which handles trade mark filings, design rights applications and oppositions for owner-managed businesses. Highlight matters stem from clients in the chemicals, machinery and software sectors. The firm's dispute resolution lawyers handle the group's patent litigation instructions.
Testimonials
'James Sarjantson impressively grasps the problem at hand with record speed, delivering exceptional counsel balanced with an insightful commercial perspective. It's no coincidence we have consistently reverted to James for his advice and viewpoints across a vast range of often challenging and always unusual legal issues since 2016. '
Services –
Trade mark application and protection, patents and their protection, preserving intellectual property rights including copyright, trade names, design, software, trade secrets, data protection and regulatory compliance.