LCF Barber Titleys awarded for its success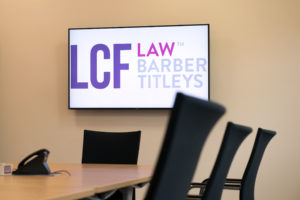 LCF Barber Titleys has been shortlisted for a prestigious business award.
It is one of just eight companies to make the shortlist in the 'best large company' category of the Harrogate Advertiser's Excellence in Business Awards. The winner will be announced at an exclusive event on the 4th April at The Pavilions in Harrogate.
Award Winning
LCF Barber Titleys is part of LCF Law and one of the firm's associate solicitors was also shortlisted for the 'employee of the year' award at the Ilkley Business Awards earlier this month. In addition, head of the firm's residential division, Julie Davis, just won the 'Lawyer of the Year' award at the Modern Law Magazine Awards, which recognise a lawyer that has made a major contribution to the success of their practice through strong management and leadership.
One of the judges of the Harrogate Advertiser's Excellence in Business Awards, David Kerfoot MBE DL, who is chair of the York, North Yorkshire and East Riding Enterprise Partnership, said: "I'm looking for ingenuity, innovation, some true leadership within that business that's driving it forward in what are challenging times, and also, what that business is giving back to the community."
Part of theCommunity
Partner at LCF Barber Titleys, Tim Axe, said: "The last twelve months has been one of change, growth and development. We moved offices in the centre of Harrogate to modern open plan working, offering both a greater connectivity and working environment. This has been coupled with increased instructions from our existing client base and combined with new work from personal recommendations.
"Although we have been part of Harrogate's business community for over 100 years, we have a very modern approach to the provision of legal services. We pride ourselves on the delivery quality of our legal services and we listen to, and communicate clearly with our much-valued clients. We have a clear and transparent pricing structure, no jargon and no hidden fees, we also ask for feedback from every client and act on it.
"We are also committed to the local community in Harrogate, supporting Saint Michael's Hospice by drawing up almost 40 wills free of charge to date, and we have become the principal business partner of Ripon Cathedral to help preserve and develop the historic building and the amazing work happening within it. It's fantastic the judging panel has recognised all of these endeavours with this shortlisting."
Full service Harrogate law firm LCF Barber Titleys celebrated the first anniversary of its move to its 4,000 square foot Harrogate base in The Exchange on Station Parade above Harrogate Railway Station last month. A team of 25 are based in the open plan office, providing specialist advice on every aspect of the law, including property, planning, corporate, residential property, employment law, family law, probate and wills and trusts. They are supported by the other 120 members of LCF Law's 145-strong team in offices in Leeds, Bradford and Ilkley. The company is firmly rooted in the community it serves and can trace its roots back to 1880, when Barber Robinson was founded.