Home
/
Media Centre
/
News
/
Bradford Manufacturing Weeks 2021 deploys apprentice task force to help inspire pupils
Bradford Manufacturing Weeks 2021 deploys apprentice task force to help inspire pupils
Bradford's apprentices are coming out in force to encourage more of the district's school children to consider a career in manufacturing.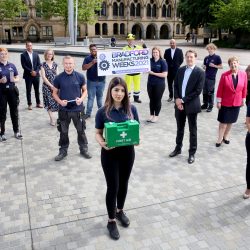 A task force of current apprentices from Bradford manufacturers including Christeyns UK, Produmax, Solenis and Carnaud Metalbox will be taking part in a series of events as part of October's Bradford Manufacturing Weeks 2021 and from September, a calendar of local apprenticeship opportunities will be available – alongside current apprentice information films - on the Bradford Manufacturing Weeks website.
Led by West & North Yorkshire Chamber of Commerce with primary sponsorship from Barclays and additional sponsorship from Naylor Wintersgill, E3 Recruitment, LCF Law and Bradford Council, Bradford Manufacturing Weeks has created more than 12,000 manufacturing experiences for the district's 14-18 year-old students since its launch in 2018.
Managing Partner Simon Stell , said: "Manufacturing is benefiting from huge levels of innovation and emerging technology, which makes it an exciting time for anyone with ambitions to work in the industry.
"As Bradford's leading law firm, with a strong track record advising all types of manufacturers, we want to not only support the existing manufacturers, but help showcase Bradford as a place to establish new businesses. Our city has one of the youngest populations in the country, with a wealth of budding apprentices keen to fuel the success of the manufacturing industry. It's a real privilege to be a part of Bradford Manufacturing Weeks 2021."
Following the success of 2020's virtual initiative which attracted 4,551 young people to online careers events and video tours of local manufacturing operations, this year's event, running from 4 - 15 October is expected to combine online and in person experiences.
Suzanne Watson, President of Bradford Chamber of Commerce, said: "With 37 schools already signed up for Bradford Manufacturing Weeks 2021 and manufacturers taking advantage of our virtual event options, it's clear that our fortnight of events has become an important part of the year for many schools.
"Bradford's strong manufacturing sector has a responsibility to encourage school pupils to find out more about the opportunities for fulfilling careers on their doorstep and our programme of events this year – many led by current apprentices – is designed to do just that."
She added: "Last year's online events were hugely popular with schools because they were so accessible, so manufacturers can be reassured that whatever restrictions we're working with, their virtual or in person contributions are immensely valuable to pupils."
Involvement with Bradford Manufacturing Weeks was lifechanging for apprentice mechanical engineer Ben Bott (17) who was one of the first pupils to take part in the inaugural 2018 Bradford Manufacturing Weeks, joining his peers for a tour of Baildon-based specialist aerospace manufacturers, Produmax.
Today, Ben has completed his second year as an engineering apprentice with Produmax and has joined the 2021 Bradford Manufacturing Weeks apprentice task force. Named Outstanding Apprentice of the Year in the Keighley Training Consortium's annual Milner Awards, Ben has pledged to continue supporting the next generation of manufacturers and engineers.
He said: "I didn't understand apprenticeships when I was at school and that's why Bradford Manufacturing Weeks is crucial to raising awareness of local career opportunities. If I hadn't taken that first tour around Produmax, I wouldn't be where I am today. Bradford Manufacturing Weeks kickstarted my career, the rest is up to me and the opportunities are endless."
Bradford Manufacturing Weeks is delivered in partnership with Bradford-based school and career specialists The Opportunity Centre (formerly Aspire igen), and for 2021 includes a competition to create an innovative solution for waste recycling in schools. With a £500 cash prize to the winning team, the competition will involve pupils across different subjects from art and design to technology and science.
Additional activities during the fortnight include virtual tours of local manufacturing facilities, "Meet the Manufacturer", Manufacturers Live and Apprentices Live Q&A sessions, a police and fire and rescue service-led Driver Awareness Event at Valley Parade and Barclays Life Skills sessions covering CV writing and interview guidance.
Lee Collinson, Head of Manufacturing, Transport and Logistics at Barclays said: "We're delighted to be sponsoring Bradford Manufacturing weeks for another year. Young people and apprentices will be essential to the manufacturing sector as it seeks to build back better from the pandemic and it is fantastic to see such large numbers of businesses and schools involved"
Bradford Manufacturing Weeks runs from 4 -15 October. For more details of how your school or your manufacturing business can get involved, please contact Laura Dooher at the Opportunity Centre on moc.e1701693176rtnec1701693176ytinu1701693176tropp1701693176oeht@1701693176rehoo1701693176d.aru1701693176aL1701693176 or see the website www.bradfordmanufacturingweek.co.uk.