New partners at LCF Law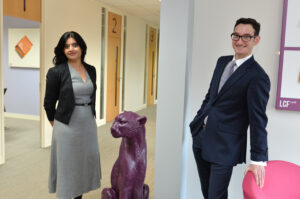 Two of our respected solicitors, Harjit Rait and Tom Edwards, have been promoted to Partner.
Harjit Rait
Harjit joined LCF Law's family law team in 2017 and has worked closely with its head of department, Rachel Spencer Robb, to increase the department's presence in the Bradford area in particular. Successfully promoting the firm's quality family law offering to new clients, she is instrumental in the department's strategic business development and has a superb reputation for providing an exceptional service to all the clients she acts for.
Harjit recently became a Resolution Accredited Specialist Family Lawyer, with specialisms in complex financial remedies and the law surrounding children. Harjit, is one of just 24 solicitors in the North of England and 73 across the UK, to have achieved the accreditation. Rachel said: "Harjit has expert credentials, a reassuring manner and a well-deserved reputation as one of the region's leading family lawyers."
Tom Edwards
Tom Edwards joined LCF Law in 2010 as a trainee. Upon qualification he joined the disputes team in the Bradford office and has become a very successful litigation lawyer. Specialising in property, he works with disputes partner, Ragan Montgomery.
Ragan said: "Tom has done fantastically well going from trainee to partner in a decade. Advising clients on a wide range of property and related disputes, he has significant experience handling high-value leasing claims. He has acted for clients in the High Court and the County Court and is a really talented solicitor who thoroughly deserves to be made a partner."
Simon Stell, managing partner at LCF Law, said: "We welcome both Harjit and Tom to their new roles and this new chapter in their careers, which will see them playing a key role in the future development and long term business strategies of LCF Law.
"Tom is our third solicitor to make the journey from trainee to partner in recent years and is in good company, joining commercial property solicitor Ann Marie Casey and Harriet Thornton, who heads up the leasehold enfranchisement division."