David Jameson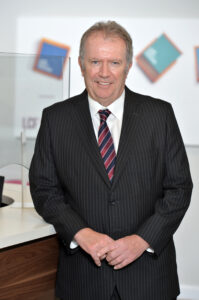 David has more than 30 years' experience in law and advises on large scale developments in the residential and industrial sector as a Partner at LCF Law's Leeds office.
Since joining the firm in 2015, David's commercial property expertise has seen him build up a strong reputation in the retail and leisure sector where he works with developers, investors, retailers, leisure operators, insolvency practitioners, landlords and lending institutions.
As well as dealing with clients across Yorkshire and nationally, David works with clients on a global scale – one in particular being in Los Angeles whereby he completes the an American boutique's lease work when it acquires new retail shops.
He handles each case, with the same level of commitment, regardless of the longevity or difficulties which ensue. This has included a client renting a large supermarket chain and also an application for planning permission for over 1,200 houses – the case, which began in 2008 and, due to an array of complexities, was completed in 2017.
David was also an integral part of LCF Law's team which advised a property company on the £11 million sale of an investment property in London, following the conversion from five flats to own dwelling resulting from a freehold acquisition.
On an individual level, David is known for simplifying the complex. He handles difficult developments and lengthy planning permission issues for clients with ease – with communication at the forefront.
David and his team are personable when speaking to clients and they utilise their expertise to retain custom, generate new leads and complete cases which could take a number of years.
Having qualified as a solicitor in 1985, and after working for both DLA Piper and Irwin Mitchell for over a decade combined, David joined HLW Keeble Hawson's property department in 2002 and was also a Partner with the firm.
Call now: 0113 238 4049 or email ku.oc1614658407.fcl@1614658407nosem1614658407ajd1614658407